For a long time, a trip to the Canadian ski resort of Whistler Blackcomb felt beyond my grasp. 10-day trips there from the UK typically cost over a grand, and I'd always been perfectly happy ticking off European resorts a little closer to home. Slowly but surely, however, the pull grew stronger... Whistler is celebrating its 50th birthday this year and my social feed was full of amazing videos and news, plus friends of mine who've been there were all telling me I'd love it.
So when I boldly announced to my wife that we were booking a trip across the pond, she knew there was little chance of discouraging me. We decided on Jan 2016 and had it all sorted before the end of August '15, just before the lift prices hike up. For £1,300pp, we had flights from Heathrow to Vancouver (about 10 hours), ski carriage (included free with Air Canada), transfers (a couple of hours), hotel accommodation (decent 3*) with breakfast and lift-passes all wrapped up into one handy package.
We arrived to bluebird skies, and within two days the snow was falling thick and fast.
Intermediate cruising

The resort of Whistler Blackcomb is home to two mighty peaks: Whistler and, er, Blackcomb. Nestled about 2 hours' drive north of Vancouver, the resort is the largest in Canada, with terrain suited to everyone from nervous beginners to keen improvers and confident snow-pros. (Map here). My wife is pretty handy on her board these days (though she won't let herself admit it), so we found ourselves exploring the mountain's intermediate terrain together most days.


On the Whistler side, the Peak to Creek run takes you from top to bottom in one long run – ideal for intermediate cruising. From the top of the Garbanzo chair, the blue Tokem and Crabapple pistes are stunningly beautiful and bags of fun – like La Tania's Folyieres piste on steroids. There's plenty of terrain to explore underneath the Harmony and Symphony chairs, and the views from that high up are spectacular.
Over on Blackcomb, all the runs under the Crystal Ridge chair are amazing, with tree-lined terrain and panoramic views. Runs like Buzz Cut and Springboard offer broad, rolling terrain with plenty of space, and up top there are more intermediate slopes under the 7th Heaven chair.
The steep 'n' deep

On the lifts and gondolas in Whistler, everyone talks to one another. Everyone. That's how I met Steph, a seasonnaire working at Dusty's Bar down in Creekside. (Decent fella... not sure about the name...) After a little chat, he invited me to hit the off-piste up on Peak to Creek with him.
We traversed the cat-track at the top and dropped left of the piste, in-between the run itself and the boundary of Whistler's expansive territory. Here, as AC/DC's 'Decibel' dropped on my iPod, I found myself bouncing through some of the lightest, freshest and fluffiest powder I'd ever ridden. I was in my absolute element.


After eyeing the black run through the Whistler Bowl for a couple of days, I booked a ½ day's guiding and dived in. It was the best £80 I've spent in a long time – I never would have dreamed of heading that far from the piste without a guide. We navigated a steep, icy and rocky entrance, cut left and flopped happily into a hidden valley, where powder-filled tree runs, hefty cliff-drops and open snow-fields awaited. If you're in Whistler and keen to make the most of the off-piste terrain, you need to book a guide.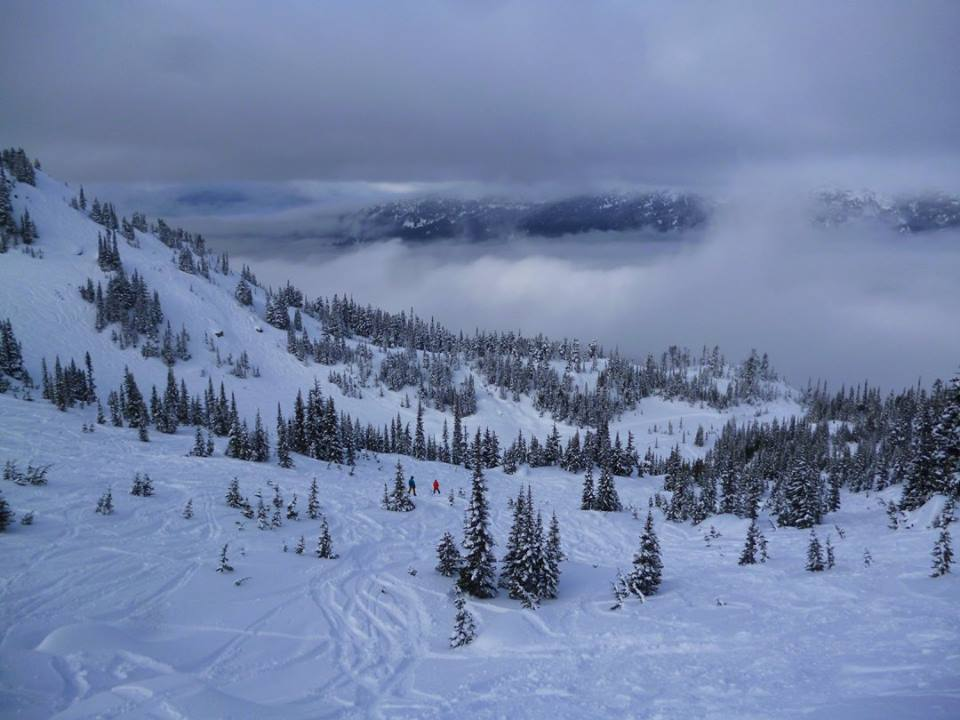 The gladed runs under the Symphony chair are also worthy of mention here. You can carve among the trees in comfort and all roads lead back to the base of the chair!
Getting about
Whistler Blackcomb's many chairlifts and gondolas are, almost without exception, swift, modern and ideally located. (Don't use the Catskinner chair unless you want the snow-park.) Lifts like Big Red, Garbanzo, Crystal Ridge and Jersey Cream get you across the mountain with ease, allowing you to traverse the entire terrain and really get the mileage in. Of particular note, the mighty Peak to Peak gondola links Whistler with Blackcomb in 10 minutes flat and offers some of the most impressive valley views you could ever hope for!
Activities away from the slopes
Whistler Blackcomb sits within easy reach of the Callaghan Valley's wild, open wilderness – perfect terrain for all manner of outdoor pursuits. In order to ensure a little quality time with the lady, I booked snowshoeing and skidooing sessions for us.
Following a short drive out of town, we pulled up in the woods and followed our guide deep into the old-growth forest. Stomping through the snow with our snowshoes on was wonderful fun, and the scenery was breathtaking. The Callaghan Valley sits in the shared traditional territory of the Squamish and Lil'wat First Nations peoples, and the sense of heritage adds a great deal to the experience. We learned of the berries, bark and leaves used in indigenous tribal medicine, identified yellow cedar, subalpine fir, red alder and mountain hemlock trees, and stopped for tea by the lake in an old fur-trapper's lodge as the flakes fell from the sky. A magical moment.
Our second foray into the wilds was a little less sedate. With helmets, protective gear and boots on, we hopped onto a powerful skidoo and followed our friendly guide high up Sproatt Mountain. Mastering the controls was easy enough, but I'm the first to admit I don't mix well with machinery. (Allegations that I toppled the skidoo will be robustly denied...)
Zooming along old logging routes up the mountainside, we climbed higher and higher before stopping to take in fine views over the pines, peaks and valleys below, and the sheer scale of the terrain was astonishing.


Aside from snowshoeing and skidooing, visitors to Whistler can experience husky-sledding, heli-drops, cat-skiing, Finnish spa facilities and all manner of relaxing and exhilarating activities. In a 10-day trip, you just can't get bored!
Beers, bars and après-ski
Don't come to Whistler Blackcomb expecting Val d'Isere-style après, because you'll be disappointed. They just don't party like that in Canada. They do, however, tuck into glorious piles of nachos and chicken wings, washed down with tasty local beers to suit all tastes. And that, in my book, makes a pleasant change. There's also a decent live music scene, with talented bands playing popular venues throughout the season.
Merlin's, the Garibaldi Lift Co (GLC's) and Dusty's sit in Blackcomb, Whistler and Creekside respectively, offering a welcoming home for thirsty après-skiers in search of a refreshing pitcher and a place to park up. We thoroughly enjoyed Merlin's and GLC's, but never made it to Dusty's. Service is prompt and friendly, prices are reasonable and the food really hits the spot when you've been on the snow all day.
In Whistler itself, you're spoiled for choice on the beer and food front. Welcoming bars and varied restaurants line the walkway through the village, tempting punters with a wonderful array of fine beers and international cuisine. With such variety and quality, you just can't go wrong.
I couldn't be happier with the time I spent in Whistler Blackcomb, and although she needed a little encouragement in the early stages, I know my wife loved the adventure as well. If you're looking for a change of scenery from the Alps and happy to spend a little extra to get there, Whistler Blackcomb is a ski destination I would recommend in a heartbeat.
Produced by
Fairmont